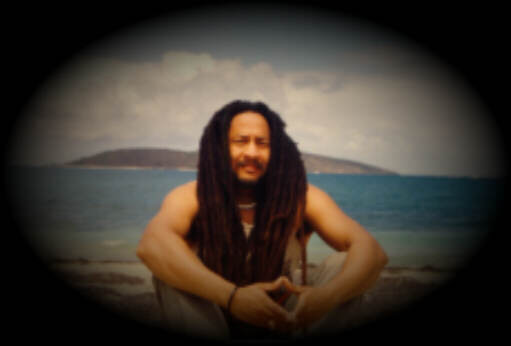 Ras Shaggai's "I Awake" Reviews and press releases
___________________________________________________________________________________
January, 2003
Artist: Ras Shaggai
Title: I Awake
Producer: Anthony "Sangie" Davis
Label: Conscious Vision Records
Released: 2002
Ras Shaggai makes his solo debut on the 2002 Conscious Records release I Awake. The twelve-track compact disc contains a mixture of Roots Reggae, rockers, Dancehall, and a cover of the 1987 Glam-rock ballad "When the Children Cry" from the Pride album by White Lion. Ras Shaggai's lyricism and powerful vocal delivery are given a rock-solid foundation by an impressive list of Jamaican musicians. Ras Shaggai enlisted several veteran musicians on this release including Sly Dunbar who provides irresistible one drop rhythm on track four, "Respect." The songs on this release run the gamut from conscious, rasta doctrine invocations to carefree dancehall ravers. Ras Shaggai's lyrical prowess and melodic vocals shine on tracks such as "Peace Inna the World," "I Awake," "Work Together," and "Positive Way." Comparisons to Bob Marley in approach, message, and positivism are bound to come from listening to I Awake. Ras Shaggai shows himself to be an intelligent, energetic, and versatile performer with a message that the world needs to hear. The only possible misstep on an otherwise outstand album is the inclusion of the cover "When the Children Cry." Ras Shaggai makes it clear on the rest of the album that he does not need to rely on other artist's material. However, he does make the song personal to his own life and experience through the alteration of the lyrics and the style of the accompanying music. Personnel: Danny Axman, Connie Campbell, Jr Chico Chin, Paul "Wrongmove" Crossdale, Anthony "Sangie" Davis, Sly Dunbar, Eggbert Evans, Chevelle Franklin, Dean Frasier, Althea Hamilton, Bongo Herman, Paul Kastick, Robbie Lyn, David Madden, Chris Merideth, George "Firehouse Crew" Miller, Nambo Robinson, Sheridan Sharpe, Earl "Chinna" Smith, Rudy Valentino, Earl "Bagga" Walker, Gibby, Lisa Lisa, Mr Glamarus, Ozoane, rich Kid, Richi Wonda, Tom "Seefari" Carroll, and Skyjuice. Songs: Peace Inna the World; I Awake; When the Children Cry; Respect; Reggae Risin'; Dance Culture; Rastaman Intercession; Pressure Cooker; Double Standard; Raw Riddem; Work Together; Positive Way.
By Dr. David Moskowitz
___________________________________________________________________________________
December, 2002
The debut CD "I Awake" by Ras Shaggai will enable the listener to awaken, also. Ras Shaggai travels musically on the same road as the Reggae masters and messengers like Peter Tosh, Lucky Dube, Garnett Silk, and Bob Marley. As each track plays and fades out, Shaggai deposits messages of enlightment, upliftment, awareness, and, undoubtedly, love. This CD is a refreshment from the sometimes stale music by Reggae artists that have been released in the past few years. Jamaica, the originating country of Reggae, produces artists that are oversaturated with the genre, therefore, causing the artists to take the easy, already made approach to their musical interpretations. As an American Reggae artist, Ras Shaggai is able to "look in" and put his finger on the pulse that, seemingly, has gone dead. Ras Shaggai began his music career in Columbus, OH, USA on a TV show at the age of 12. He has nurtured his career ever since. Shaggai started touring and travelling between the Caribbean and the United States in 1985. Ras Shaggai's name has been linked with the most prominent and gifted Reggae artists, which includes Burning Spear, Third World, Culture, Black Uhuru, and The Wailers. He has also performed at The Cool Runnings Summer Reggae Jam and The Hard Rock Café in San Juan, PR; The Bob Marley Festival Tour in Texas; and The Bob Marley Day Celebration in Athens, OH. For his debut CD, "I Awake", which was recorded in Kingston, JA, Ras Shaggai collaborated with the likes of Sly Dunbar, Dean Frasier, Earl "Chinna" Smith, Producer Sangie Davis and Engineer Rudy Valentino. "I Awake" offers music that enriches the mind and soul. The standout tracks are "When the Children Cry" featuring Chevelle Franklin, "Reggae Risin'", and "Rastaman Intercession". On the remake "When The Children Cry", the track offers emotional sincerity, which is delivered perfectly by the vocals of Chevelle Franklin. The song speaks from the position of the older generation imparting facts of life to the younger generation. The apologetic, yet, truthful delivery supplies the vital element that makes the track a masterpiece. "Reggae Risin'" gives a very reminiscent sound of Reggae's forefathers. It captures the essence of Reggae at the beginning and most vital point in time for the genre. The music is pure and sharp. The song reflects the increase of exposure of Reggae music and explains why it should be spread worldwide………to give the world a message of love and positivity. The last standout track "Rastaman Intercession" is a song of testament. Insight into the mind and heart of the Rastaman is imparted on this song. In a rich, folk-like tradition, the lyrics are very personal and the music has a strong, melodic, orchestral feel. The vocals complete the firm melody throughout "Rastaman Intercession", which, in fact, is indicative of the voice-soul connection. Ras Shaggai and his CD "I Awake" provides invaluable information and "tools" for living a conscious, complete life. He speaks on his love for Jah and the guidance and support given. The CD also focuses on unity, which is covered on the track "Work Together". If you wanna move your feet and feel irie vibes, listen to track #6 "Dance Culture". This track captures a passed time well, the beginning of Dancehall, but, the lyrics continues the tradition of Roots/Conscious Reggae. The lightness, breezy sounds and lyrics of the title track "I Awake" adds to the mélange of the CD. This track is a simple song of gratitude to Jah for awakening each day to the view of the sun and nature. The view offers the rejuvenation and energy to face each day. The CD "I Awake" contains tight musicianship, inspiring lyrics, and a positive flow of energy. "I Awake" easily has the right to be placed within a collection of Reggae greats.
Justin Howell
Miami, FL
___________________________________________________________________________________
November, 2002
Ras Shaggai,
I Awake
(Conscious Vision, 2002)
You've only one life to live and you've only one heart to give. There's only one life that you live, so live positive.
- Ras Shaggai, "Peace Inna the World."
Everybody needs a little reggae. I ran into Ras Shaggai on a Saturday afternoon at, well, let's just call it an unpretentious venue. It would be safe to say that no one came there with the primary intention of listening to his music or his philosophy. In fact, this middle-aged dark man with waist-long dreads was probably the only person there who knew who or what "Jah" was. Perhaps I was just up -- or maybe down -- for it, but Ras Shaggai's music hit me right that day.
Born, raised, and educated in Ohio, Ras Shaggai has always been about music. Twenty years ago, he spent three years in the Caribbean and, in the midst of the native culture and music, found his calling. Since then, he has sang and played reggae with a number of bands, spent time in the Virgin Islands and Puerto Rico, and has had a string of musical accomplishments. I Awake, his solo debut, is an independent release.
Recorded in New York and Jamaica, I Awake has a cast of dozens of session musicians and Shaggai colleagues who laid down a rich, solid vocal and instrumental accompaniment for the 12 tracks on the disk. A first-rate horn section can be heard throughout the 11 songs written or co-written by Ras Shaggai. A female group, the Daffodils, gets credit for excellent background vocals on several cuts. Keyboards, guitars and percussion amply and competently flesh out every tune.
If you were around in the '80s and bought White Lion's album just because it had "Radar Love" on it, track 3 on I Awake might sound a little familiar to you. "When the Children Cry," the only cover in the collection, is one fine song and Ras Shaggai makes it his own. This jazzy version is a perfect showcase for his voice. Chevelle Franklin joins him with supporting vocals that give you chills. Add the delicate piano and flute background counter melodies that mesh with the drum and cymbal rhythm line and you end up with something that you can't help putting on CD repeat. If once isn't enough, Shaggai has included a second version, without Franklin, as a hidden track.
I Awake is nothing if not filled with messages. Although all of the original songs are characteristically danceable, several -- "Reggae Risin'," "Dance Culture" and "Raw Riddem" -- are about the music itself. Reggae is the music of the Rastafarian culture and its tenets are in the lyrics of every song. "Pressure Cooker" and "Double Standard" speak of frustration and consequences caused by inequality and injustice. "Work Together," "Positive Way" and "Peace Inna the World" make suggestions for alleviating those negatives and living well despite them. The most unashamedly spiritual tracks in the group are "I Awake" and "Rastaman Intercession." If the former were the first thing everybody heard when he or she woke up, I'm sure there would be a statistically recordable decrease in A.M. road rage, office anxiety and general mean-spiritedness.
Everybody needs a little reggae. Ras Shaggai's I Awake has proved to be a great place for me, definitely a former reggae virgin, to get a start on mine.
- Rambles
written by Valerie Fasimpaur
published 30 November 2002
___________________________________________________________________________________
September 2002
Subject: Review: Ras Shaggai "I Awake" Greetings Reggae Lovers Worldwide-- it is I man honor to spread the message about the arrival of a new massive recording on the reggae scene. along with a lineup including such great musicians as Sangie Davis, Sly Dunbar, Jr. Chico Chin, Dean Frasier, Earl "Chinna" Smith, Earl "Bagga" Walker, and The Daffodils to name just a FEW, the album "I Awake" by Ras Shaggai (RAW #1621) is a very rich, full, and crucial work of art. twelve deeply rooted tracks express a range and depth of talent only found in well-seasoned artists. promoting Jah Love and Light with all his soul and might, Ras Shaggai's album carries a strong conscious earth force vibe all the way through from rootsy tracks such as I Awake, Pressure Cooker, and Respect to deeply moving and heartical tracks like When The Children Cry and Rastaman Intercession, to more heavy hard hitting tracks like Dance Culture and Raw Riddem. You got to hear it, this album is already creating much talk in reggae circles. check the vibes and feel IRIE. give thanks and praise, forward the reggae vibe everytime! In one love, marcus (RAW #1573)
by Marcus Brevick
___________________________________________________________________________________
Press Releases
November 2001
Ras Shaggai (Raw #1621) has just returned from Jamaica where he voiced 12 tracks for his upcoming debut CD. The project began in NYC from Sept 4-8th 2001.

The project is being produced by Sangie Davis (who co-wrote "Wake Up and Live" with Bob Marley). He also wrote and produced "Girlie Girlie" for Sophia George. Some of the "All Star" Jamaican musicians that are backing Shaggai on this project are; Sly Dunbar and a horn section of, Dean Frazier, Jr Chico Chin, David Madden, Nambo Robinson, & Eggbert Evans. Others are Earl "Chinna Smith, Chris Meredith, Earl "Bagga" Walker, Gibby, Skyjuice, Paul "Wrongmove" Crossdale, with guitar licks and engineering by Rudy Valentino.
Ras Shaggai is currently unsigned. Interested labels should contact Robert Singerman at Singermanagement (212) 757-1217 or send an e-mail to rs1@noos.fr.
September 2001 Press Release
Reggae musician and former resident of the US Virgin Islands and Puerto Rico,
RAS SHAGGAI (RAW#1621), is heading into HF & C Studios in NYC right after the labor day holiday to record tracks for his as yet untitled debut release.
Joining Shaggai in this project as producer is Anthony "Sangie" Davis, a former member of "The Gatherers", a contributing writer of "Wake Up and Live" recorded by Bob Marley, and producer of "Girlie Girlie" by Sophia George.
Engineer Rudi Valentino will be at the controls.
The project is set for completion in mid-November in Jamaica with a roster of the yards most talented musicians including Earl "Chinna" Smith, Sly Dunbar, Dean Frazier, Paul "Wrongmove" Crossdale and members of the Firehouse Crew.
JAHLOVE
Use the Back browser button or